Banksy's Wit and Wisdom
My friend Fycelle recently fulminated against the triteness of Banksy's
courageous critique
of Paris Hilton, whose vapidity has never before been pointed out by anyone, ever.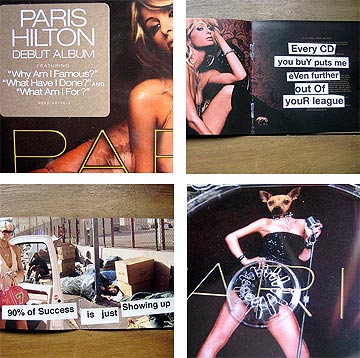 Like the world needs another fucking Barbara Kruger! Apparently Banksy has been inspired by those tote bags and fridge magnets in Camden Market, emblazoned with Kruger's classic fighting-talk slogans such as 'I Shop Therefore I Am' and 'Your Body Is A Battleground'. Anticapitalist art fuck off and die!

Paris, already enjoyable as a persona for her glacial nonchalance, is only being elevated by the amusing (and slightly hysterical) upset caused by her music career. I think the 'Every CD you buy puts me further out of your league' slogan is revealing - its her wonderful air of self-containment, even when doing something as precarious and potentially embarassing as attempting to launch herself as a popstar, that pisses people right off. I often hear the word 'talent' being banded around and it makes me blush - are people really so naive about pop? Like a film, a popstar is the work of a team of people across various creative disciplines, visual and aural. Paris is doing not bad and has so far given the world three and a half good songs, which is better than Banksy's piles of shit art and stencilling.
After the jump, Fycelle rounds up some more of his favorite political art.
Hey guys, I found more really great art!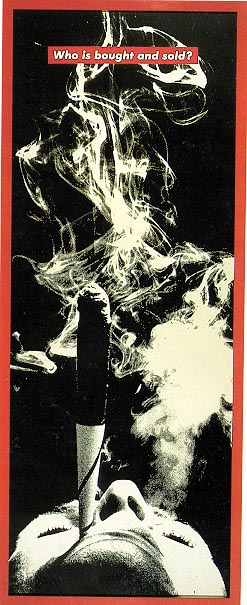 -----
Although I have to say, I kind of like the Banksy thing with the Vietnamese girl and Ronald McDonald, simply because it made me laugh the first time I saw it, in that nervous, "that's challenging my petrified ways of thinking" laughter that Adorno liked so much. It seems to be about the sentimentalization and other distortions of that iconic image, though the aspect of it that's a critique of multinational profiteering in southeast Asia or whatever is, indeed, trite.

I like Banksy's (inconsistent) visual wit, I hate his sloganeering.

Shortly after writing the thing about Paris, Fycelle (who is a film student in London) clarified that he is not opposed to all political art per se, just bad political art.


I am not averse to art by any means, and neither to the idea that things like it can sometimes be profound, but it's this shit that pisses me off. Like, once a friend of mine (whose parents call themselves marxists) told me that she thought the most important duty of art was to 'express a social and political message'. I think the exact opposite! The idea that art should be massaging our (trite) moral sensibilities is obviously outrageous, but this is what so much shit vying to be called 'art' prides itself upon, including Banksy. His bullshit stunts remind me of the class clown who picks on the weakest teacher and then looks round for approval from the other kids - it's like a form of posing. There is a quote, I think it's from Proust, which is something like 'Art that contains theories is like an object on which the price tag has been left'. I like it because I've always struggled with the premium placed on ideas and meaning in a lot of art discussion and especially in my shortlived art education - it says eloquently how much art like this diminishes itself by cancelling out its own mystery. Anyway, once I was able to to free myself from the anxiety caused by the poisonous idea of 'meaning' and focus on the surfaces - the formal and aesthetic qualities - in art, I found my appreciation became both wider and deeper. Two really good essays that helped me were 'Against Interpretation' and 'The Aesthetics of Silence' by Susan Sontag.
How adorable of Fycelle to struggle so mightily with the question of meaning in art! Reading that made me feel like a cynical old man, which prompted me to sit back in my leather armchair, take a puff on my pipe, and stir the embers of my study of the philosophy of art ten years ago, most of which I'm sure is completely wrong and oversimplified.


for kant, art (including poetry) stimulates a particular part of our brains that nothing else can, precisely because its ambiguities stimulate creative, associative, unpredictable thinking. it's a kind of pure reason that needs the occasional workout.

bad political art does not serve this function. there's a simple meaning and not much more.

of course, good political art comprises more than one heavyhanded political message. i'm thinking of the film maria full of grace, or some of felix gonzalez-torres' better pieces, for example.

there are many other theories of the purpose of art (especially relevant might be adorno's argument that good, critical art can be a particularly effective indirect critique of petrified ways of thinking), but i always liked kant.

If you know what I mean.

(I think I'm constitutionally incapable of writing "Kant" without soon thereafter making a dirty pun)